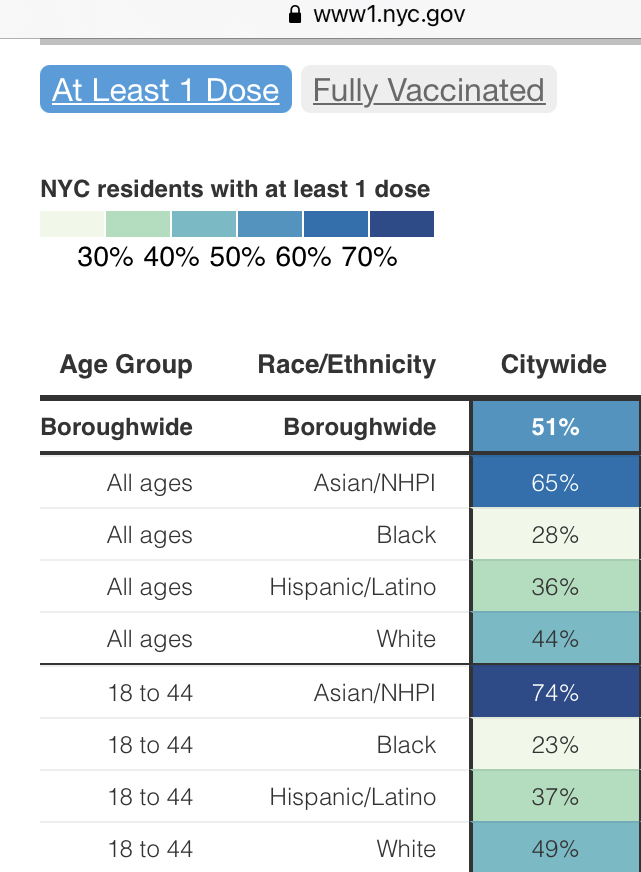 A look at vaccination data from the NYC Department of Health reveals that Borough Park, Brooklyn is doing better than many communities in vaccinating against the Coronavirus. 50% of adults in Zip Code 11219 have received at least one dose of the vaccine according to the data updated through late May, 2021. This mirrors the 52% rate for adult whites across New York City; it edges out the 47% rate among Latinos in NYC and is ahead of the 35% rate among African American adults in the city. Borough Park's rate also surpasses the rates of dozens of City's neighborhoods mostly in Brooklyn and Queens.
Borough Park's demographic leans younger than most places in the city. According to census data, 75% of the population in the census block that covers Borough Park and many surrounding neighborhoods is under the age of 50. This matters because vaccines for the under-age 50 group was not available until late March and it matters even more when one considers that vaccination rates across NYC for adults under the age of 45 is much lower than the rates for older adults. Indeed, the at-least-one-shot rate in NYC for those age 18 through 44 is 49% among whites; 37% among Latinos and 23% among African Americans, and Borough Park - whose adults are mostly under the age of 50 is at 50% vaccination among adults.
This vaccination figures are further impressive when considering that NYC officials did not designate Borough Park as one of the priority areas for vaccination as was done to many minority-populated neighborhoods that were hit hard by Coronavirus.
The mission of the Orthodox Jewish Public Affairs Council (OJPAC) is to counter the defamation of the Orthodox Jewish Community, and to champion civil rights and civil liberties. Please consider supporting our efforts by following us on Twitter/Facebook (@OJPAC); by sharing our content and by donating funds via our
Donate Page
. Your support is appreciated!