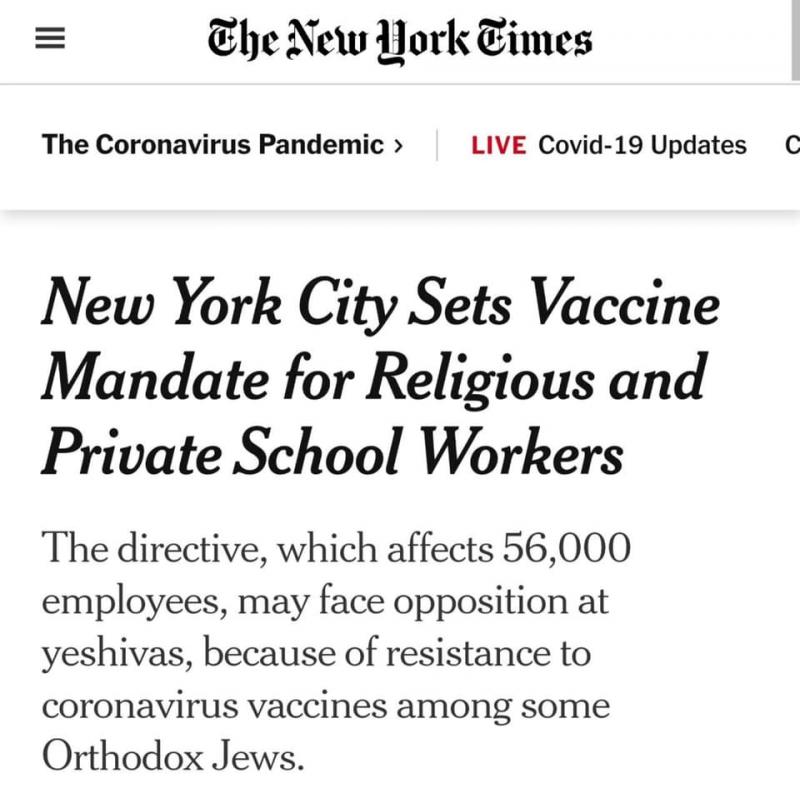 The following is an email to New York Times reporter Emma Fitzsimmons.
Good day,

Your report in the New York Times regarding New York City's COVID-19 vaccination mandate on private school staff claims that "while 77 percent of New Yorkers have received one dose of the vaccine, the rate is only 51 percent in Borough Park in Brooklyn, which has a large Orthodox community. In South Williamsburg, where several leading Hasidic sects are centered, the rate is about 59 percent."
As noted in many of our tweets, videos and press releases over the last 20 months, the Orthodox Jewish Community is young; 60% are under the age of 18 among Hasidim, and younger people are less likely to be vaccinated against COVID-19. Therefore if you look at rates overall it may appear lower due to the many young people. Indeed, Borough Park's current rate for one time vaccinated adults is 70.1% and South Williamsburg is 78.6%; both of those beat the 68% rate for white adults citywide and the 63% rate among African American adults citywide.
Your report also claims that "misinformation campaigns led to a resistance to restrictions and safety guidelines at the height of the pandemic that at times caused virus cases to surge." Those words link to a NYT article of October 8, 2020 by Liam Stack and Joseph Goldstein which relied on lies from former New York Governor Andrew Cuomo who tried to frame the second Coronavirus wave in New York about Orthodox Jews of Brooklyn and Queens. The state's own data that we showcased at the time proved this narrative false because many places had worse and more COVID-19 rates at the time than among Orthodox Jews in Brooklyn and Queens, but Stack and Goldstein never corrected their bigoted, Orthodox Jews-blaming lies pushed out by disgraced Cuomo. If "resistances to restrictions" were an Orthodox Jewish thing, then the rest of New York would not see a surge if cases since everyone - except for Orthodox Jews - supposedly behaved so well.
What's more, according to testimony by a Department of Health Official to the AG James investigation, Cuomo's "cluster zones" were based on the moods of the Executive Chamber; not based on data. We argued it at the time because the state's own data showed many places doing worse with COVID—19 than Orthodox-populated zoned areas but the former areas got away without any cluster zone designations.
The sub-headline to your article says the directive "may face opposition at Yeshivas because of resistance to Coronavirus vaccines among some Orthodox Jews." As noted in the data above, rates among Orthodox Jewish adults hold their own quite alright against two major race groups in the city; this despite the fact that Orthodox adults are younger than adults elsewhere and - again - younger people are less likely to vaccinate against COVID-19. However, some resistance to the COVID-19 vaccine is seen across the board in New York and nationwide, so to make it an Orthodox Jewish issue is absurd.
Thank you for reading.

The mission of the Orthodox Jewish Public Affairs Council (OJPAC) is to counter the defamation of the Orthodox Jewish Community, and to champion civil rights and civil liberties. Please consider supporting our efforts by following us on Twitter/Facebook (@OJPAC); by sharing our content and by donating funds via our
Donate Page
. Your support is appreciated!